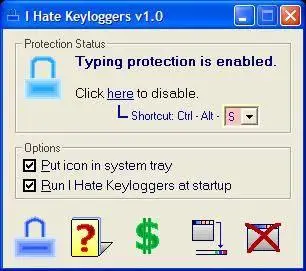 I Hate Keyloggers version 1.0
Application For Windows 2000 and Windows XP | DewaSoft | 0.15 MB
First of all you have to understand how a software keylogger works. There are many methods to record the keystrokes, such as installing a system driver, through a system call, or setting a keyboard hook. We will deal with the latter because it is the most prevailing method used by well-known keyloggers in the Internet. From an article in MSDN: A hook is a mechanism by which a function can intercept events (messages, mouse actions, keystrokes) before they reach an application.
Suppose you want to login to your account using Internet Explorer. You typed mypassword with your keyboard. This text is then sent to Internet Explorer, but in its way it is intercepted by the hook. This hook was set by a key logger. Your password is recorded. Game over. I Hate Keyloggers will disable this hook mechanism so the text (mypassword) will never reach the key logger program. Consequently, it will break some other programs that rely on this hook mechanism, but I Hate Keyloggers provides a hotkey combination to quickly disable or enable typing protection. It is very convenient!
http://dewasoft.com/privacy/i-hate-keyloggers.htm