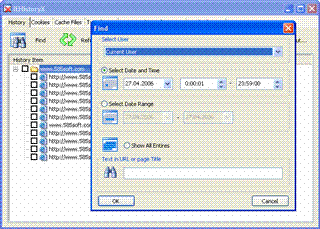 IEHistoryX 1.3.3.12 | Win32 | Size: 1,07 Mb
This easy to use program will help you to find, view, and selectively delete Internet Explorer history, cookie files, temporary Internet files (Internet Explorer cache files), typed URLs (address bar history), and AutoComplete form information (search history, saved passwords).
This software allows you to not only remove, but also restore forgotten information such as visited URLs, AutoComplete form data, saved passwords, search history. The user-friendly search will help you to find links to visited web pages, cookie files and cache files stored by Internet Explorer.
Features:
* Clear History completely or selectively, save history items to file, copy to clipboard or add history URLs to Favotires
* Clear Internet Explorer Cookie files, view content of cookie files
* Clear Temporary Internet (cache) files, view Temporary Internet files
* Clear Typed URLs (Address Bar, Location Bar history)
* Clear Autocomplete Information (clear search history, saved passwords) selectively or completely, save autocomplete information to the file
* Clear completely your History, Cookies, Temporary Internet files immediately
* Find visited URLs, cookie files, Temporary Internet files by date-time, keyword in URL or by wildcard
* You can view history URLs, cookie files, cache files of any users on your local computer (if you have access rights)