iOmega HotBurn Pro
makes burning CDs easier than ever
- Makes CD burning easy - with just two simple steps!
- Advanced features for easy CD customization
- Perfect for creating and sharing DVD, music, photo, and MP3 discs - also creates custom disc covers
- Drag and drop files directly onto formatted CD or DVD discs
Great program from great company!
The HotBurn Pro interface is so straightforward that making music or data CDs is completely intuitive and hassle-free.
Just drag and drop files into the layout screen and click the Create CD button.
Voila! On the PC you can drag and drop files to your CD burner
without launching the HotBurn
application, it also saves your files directly to your burner from within any application.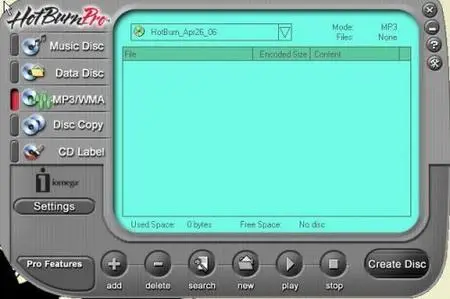 Plus, HotBurn Pro includes a
handy label and jewel case editor
, making labeling your collection as easy as making it. HotBurn Pro also includes Advanced Music and Data Managers giving the user greater control over their music and data CD creations.
Music CD mastering
Data CD mastering
MP3 CD
CD Copy
Mixed Mode CD
Bootable CD
Packet Writing Software
Jewel Case and CD Cover Editor
Two step audio CD c reation
Selective volume adjustment
Pop/hiss removal
Greatest Hits CD
Non Specific MP3 CDs
Two step data CD creation
ISO 9660 support
Joliet support
RockRidge support
Drag'n Drop copy
Save video clips to CD
Full audio playback capability
Download
(27,5 Mb)