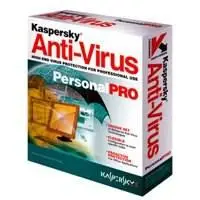 Kaspersky Antivirus Personal Pro 5.0.388
Kaspersky™ Anti-Virus (AVP) provides all types of anti-virus protection: anti-virus scan-ners, monitors, behavior blockers and integrity checkers. It supports all of the most popular operating systems, e-mail gateways and firewalls. KAV controls all possible virus entry points.
Kaspersky Lab's powerful and flexible local and network management tools for auto-mation and centralized installation and control over anti-virus protection provide maximum convenience and minimum time wasted when building your own structure of an anti-virus de-fense.
There are several purchase options available including Kaspersky™ Anti-Virus (AVP) for Home Users (a single license for stand-alone computers), Kaspersky™ Anti-Virus (AVP) for Small & Medium Business, Kaspersky™ Anti-Virus (AVP) Corporate Solution.
Best protection from malware
Your PC is under constant attack by viruses, Trojans, Internet-worms and other malware. Kaspersky Anti-Virus Personal monitors all virus entry points leaving you with a clean and safe machine.
Ease of use
Kaspersky Anti-Virus Personal now includes a redesigned interface supported by new architecture. The program is simple to install and use. You only need to choose from three levels of protection and your PC is completely safe.
Two-tier email protection
Email is the most typical source of virus infection. We check and cure both incoming and outgoing mail in real-time. We even scan and clean your mailbases. Your email is always safe!
Cleans and cures compressed files
Virus writers now hide their dirty tricks in compressed files. But our program is ready for this. We detect viruses in over 700 compressed file formats and disinfect and cure ZIP, ARJ, CAB and RAR files.
New virus definitions every hour
New viruses appear every day! Kaspersky Labs protects you with 24 daily antivirus database updates automatically downloaded via the Internet. New epidemics are no threat to you.
Mobile user support
Virus definitions are delivered regardless of how often you connect and disconnect. Your mobile devices are protected!
http://rapidshare.de/files/36079451/kav5.0.388_16.07.2007.rar