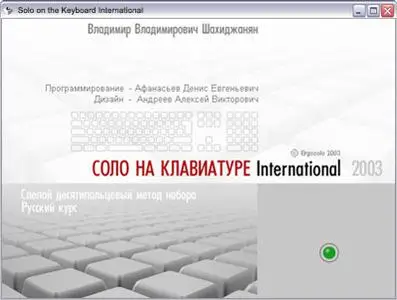 Solo on the keyboard 8.1 / Соло на клавиатуре 8.1
Английский и Русский курсы
English and Russian courses
Это обучающая программа, позволяющая в короткий срок научиться быстро печатать на клавиатуре компьютера. Автор курса машинописи — известный психолог и журналист, преподаватель факультета журналистики МГУ Владимир Владимирович Шахиджанян. «СОЛО на клавиатуре» отличается от всех клавиатурных тренажеров индивидуальным подходом к каждому ученику — Вы не только освоите слепой метод набора, но и пройдете курс психотренинга.
This course is a fruit of detailed experimental research done by Dr. Vladimir Shahidzhanjan, a psychologist and a journalist.
We initially focus on accuracy and comfort more than speed because speed will come by itself after completing the well-designed tasks of the course.
Size: 4.22 mb
http://rapidshare.de/files/22684133/Keybord_Solo_8.1.rar