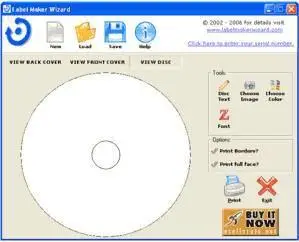 Label Maker Wizard is simple 'wizard' style software which walks you through the process of printing cd and dvd labels and designing case covers for your CDs and DVDs.
Our software has support for many stock labels from Avery, PressIT, PC Line and Neato, plus the ability to print on standard A4 plain paper.
With Label Maker Wizard you should no longer find hundreds of unknown discs lying around. Instead, you can now label your mp3, cd, dvd and console discs and covers quickly and easily.
Label Maker Software Features:
Our label maker is not over complicated yet it still has all the features you might need to design your labels and cases.
-Full cd, dvd and disc label designer interface
-Full support for standard cd jewel cases, standard dvd cases, slimline cd cases and slimline dvd cases.
-Add your own cd cover, dvd cover or console images, or use one from our template library
-Drag and Drop your images into your cover design.
-Automatically resizes images to fit your dvd/cd case and disc label
-Make adjustments to the printed size and position of your labels.
-Add track listings, titles/artists and spine text
-Alter background colors, fonts and font colors
-Save and re-use your covers and labels once you have finished designing them
-Support for plain paper printing as well as stock labels/sticky disc labels
-Will work on Windows XP, 98, ME, 2000, NT