Learnkey : CISSP: Cryptography 200mb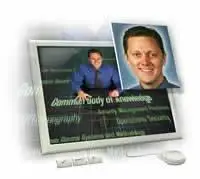 1 Session - 3 Hours of Interactive Training
# View Complete Course Index & Author Interview
Cryptography is one of 10 domains comprising the Certified Information Systems Security Professional (CISSP) Common Body of Knowledge (CBK). In this CISSP certification prep course from LearnKey, expert instructor Michael Solomon covers the history, methodologies and practices of cryptography, as well as common security protocols employing cryptography. At the conclusion of this course, you will be familiar with the issues and concepts of the Cryptography domain required to pass the CISSP exam.
# Benefits You'll be on your way to obtaining a recognized, valued IT security credential.
# Increase your earning potential and technical security credibility.
# Enhance your employment opportunities.
# PER SEAT Licensing Available.
# Call 800-865-0165 for quotes for CD, NETWORK or ONLINE Solutions!
Product Code Price Quantity
SINGLE USER: CD Course 150258 $159.00
MULTI-USER: CD Course 150255 $395.00
http://rapidshare.de/files/24185351/LCC.part4.rar.html
http://rapidshare.de/files/24185518/LCC.part2.rar.html
http://rapidshare.de/files/24185698/LCC.part3.rar.html
http://rapidshare.de/files/24185890/LCC.part1.rar.html
pass :
www.AvaxHome.ru
or freetoshare
can't remember the right one, sorry due to a slow upload connection, i do the compress part, a friend of mine do the upload and then delete the files from his computer.
The next files, if they are next files (free rapidshare account), will be passworded by "freetoshare".
regards