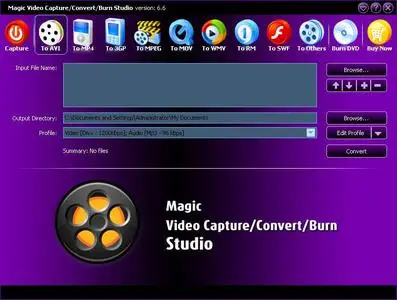 Magic Video Capture Convert Burn Studio v7.9.9.1|14.5MB
Magic Video Capture/Convert/Burn DVD Studio is refined as premier software in video realization. Video Capture, Convert and Burn are all supported by this powerful tool. This software is the only ticket you need, from raw videos to any most-used video.
No matter capture your happy time from your DV or other video device; or edit videos and burn to DVD; even convert videos to the format you need in a website; within 4-steps, magic Video Capture/Convert/Burn DVD Studio will express your creative ideas and share them with your friends.
Features:
* Capture in Video, Audio and Images;
* Burn videos in DVD and create DVD burning menu;
* Convert your movies in batch mode;
* Convert and split all most-used videos;
* Customizable video screen size, audio/video bit rate, frame rate, aspect;
* And much more!
Our software is very user-friendly according to our 10.000 users, as they selected "Ease of use" as the nr 1 feature in a recent survey.
Wide-Covered Capture
* Video Capture;
* Capture videos from device: DV, WEB Camera, VCR, TV Tuner, and Analog Camera;
* Audio & Image Capture;
* Capture Audio and Images from videos: AVI, MPEG, VCD, DVD, SVCD, WMV and the other video formats.;