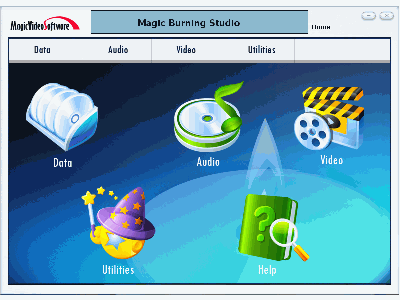 Magic Burning Studio v10.3.7 | Windows OS | 6.74 MB
Home Page
In the great tradition of MagicVideoSoftware, this CD/DVD burning application makes it really easy to create & copy your own data, video, audio and multisession CDs, DVDs discs.
Many current CD/DVD burning programs are universal "everything including the kitchen sink" applications that are overloaded with countless confusing functions. Magic Burning Studio makes life easier by concentrating on what you really want to do!
What can the Magic Burning Studio do for you?
* Create MP3 CDs/DVDs discs
* Burn Movies as Video DVD, Video CD (VCD) or Super Video CD (S-VCD)
* Create and burn CD/DVD Images
* Erase CD-RWs / DVD+RWs / DVD-RWs
* Supports file names with up to 127 characters for DVDs and 64 characters for CDs
* Burn speed and other options can all be set automatically
* Burns WAV, MP3, WMA and Ogg Vorbis files directly to Audio CDs without any plugins
* Create copies from audio, video or data discs easily
* Interactive troubleshooting assistant that helps to solve hardware and media problems
* Integrated support for over 1,700 CD, DVD burners
* … and much more!
Magic Burning Studio also helps you to save money on CD/DVD blanks. Since it produces "multisession" discs you can always add more files later provided that the disc isn't completely full. This feature makes Magic Burning Studio ideal for everyone who needs to make occasional backups of important data!
More than 1,700 CD, DVD writers are supported.
Magic Burning Studio runs under Windows® 95, 98, Me, 2000 and XP.
Download
Mirror
Serial included.