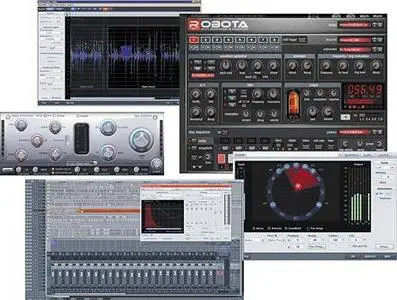 Magix Samplitude ver. 8.01 Professional
Windows | Size: 165 MB ( 96+69 MB )
Complete recording suite for professional studios
Complete feature set includes MAGIX Elastic Audio, Robota Pro, Analogue Modelling Suite, Surround Room simulator and more. The all-in-one software for the digital audio workstation: Recording, editing, mixing, Rich Media authoring and mastering everything up to and including Red Book compatible burning of audio CDs. Extensive tools for all these processes in the 24 bit DVD standard and up to 192kHz. Highly developed digital algorithms, absolute phase stability, and consistent use of floating point calculations ensure that the sound keeps its nuances, even after the most intensive digital processing.
Magix Samplitude V8 Professional Recording Software Features:
* 999 tracks
* 64 submix buses
* 64 aux send buses
* ASIO, MME, and WDM driver support
* Complete realtime editing
* Batch processing
* High class effects set (phase-stable mixing and mastering effects)
* Mixer with variable signal flow
* DirectX and VST plug-in support with automatic latency compensation
* Pentium 3/4 and Athlon optimizations
* MIDI-Recording/Editing and VST instruments support
* 5.1 Surround
* External remote controller support (e.g. Mackie control)
* POW-r dithering
* Realtime room simulator with convolution (including 490MB impulse samples)
* Digital video recording/editing and CD/DVD mastering program
http://rapidshare.com/files/3578448/mspro.part1.rar
http://rapidshare.com/files/3571806/mspro.part2.rar