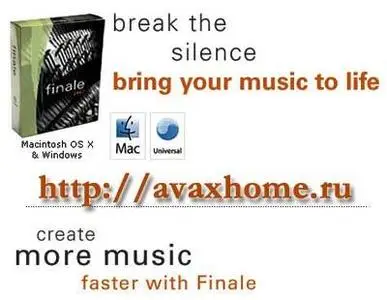 Platform Windows | English | 1,35 GB

Finale 2007 gives you the power, speed, and creative control you need to
create more music.With innovative new features such as Linked Parts and
seamless video support, this version is like no other.

Compose, edit, arrange, listen to, and print your music with stunning,
professional-quality results. Powerful tools, robust productivity features
and incredible speed make Finale the ultimate composing and score-writing tool.
D/L:
http://rapidshare.com/files/1451276/zwtfin07.r00
http://rapidshare.com/files/1451277/zwtfin07.r01
http://rapidshare.com/files/1451241/zwtfin07.r02
http://rapidshare.com/files/1451253/zwtfin07.r03
http://rapidshare.com/files/1451271/zwtfin07.r04
http://rapidshare.com/files/1451323/zwtfin07.r05
http://rapidshare.com/files/1451213/zwtfin07.r06
http://rapidshare.com/files/1452660/zwtfin07.r07
http://rapidshare.com/files/1452697/zwtfin07.r08
http://rapidshare.com/files/1452680/zwtfin07.r09
http://rapidshare.com/files/1452579/zwtfin07.r10
http://rapidshare.com/files/1452726/zwtfin07.r11
http://rapidshare.com/files/1452731/zwtfin07.r12
http://rapidshare.com/files/1453935/zwtfin07.r13
http://rapidshare.com/files/1453854/zwtfin07.r14
http://rapidshare.com/files/1453900/zwtfin07.r15
http://rapidshare.com/files/1453870/zwtfin07.r16
http://rapidshare.com/files/1453866/zwtfin07.r17
http://rapidshare.com/files/1453949/zwtfin07.r18
http://rapidshare.com/files/1455055/zwtfin07.r19
http://rapidshare.com/files/1454904/zwtfin07.r20
http://rapidshare.com/files/1454975/zwtfin07.r21
http://rapidshare.com/files/1454945/zwtfin07.r22
http://rapidshare.com/files/1455107/zwtfin07.r23
http://rapidshare.com/files/1455148/zwtfin07.r24
http://rapidshare.com/files/1456394/zwtfin07.r25
http://rapidshare.com/files/1456362/zwtfin07.r26
http://rapidshare.com/files/1456402/zwtfin07.r27
http://rapidshare.com/files/1455654/zwtfin07.r28
http://rapidshare.com/files/1456345/zwtfin07.rar
http://rapidshare.com/files/1455580/zwtfin07.sfv