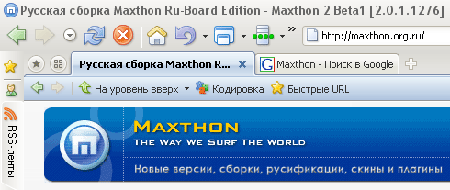 Maxthon 2.0 Beta 1 + Rus | 1,5 MB
Now Maxthon 2.0 in the beta-period
Enabled Mouse Gesture Customization and many more…
Changes:
+ Fast goback and goforward
+ Dialog title support to plugin config dialog
+ Single config page
+ Select Java VM Option works.
+ Plugin auto start support (sic config page not show auto start status)
+ Web Accelerator
+ Mouse Gesture Customization
+ New plugin toolbar
+ ShowSiteIcons in advanced option works
+ Vista glass support

* Fixed hold right + click left browser menu problem
* Fixed Security.xml was not loaded
* Fixed delete a plugin would disable all plugins problem
* Fixed key stroke problem with German keyboard etc.
Very stability and goodwork version - just try and enjoy!
Download Maxthon 2.0 Beta 1
(1,5 Mb) incl. English, Russian, Chinese, Japanese and Arabic languages.