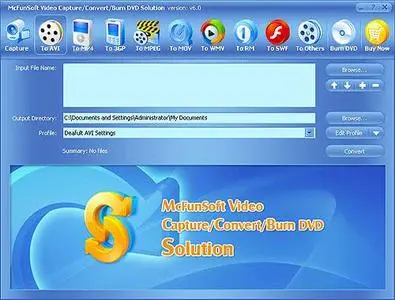 McFunSoft Video Solution 6.7 | 11.68 MB
Capture, convert, and Burn to create your good taste!
McFunSoft® Video Capture/Convert/Burn DVD Solution™ is refined as premier solution in video realization. Video Capture, edit, Convert and Burn are all supported by this powerful tool. This solution is the only ticket you need, from raw videos to any most-used video.
No matter capture your happy time from your DV or other video device; or edit videos and burn to DVD; even convert videos to the format you need in a website; within 4-steps, Video Capture/Convert/Burn DVD Solution will express your creative ideas and share them with your friends.
Highlights
Convert Between All Video Formats
Such as AVI (DivX, XviD, etc), MPEG 1, 2 and 4, QuickTime, RM, MOV, ASF, VOB, AAC, AC3, AMR, WAV, WMV and DVD, SVCD, VCD.
Burn DVD, VCD or SVCD Burn DVD
Create movie DVDs from video files of all supported formats to watch them on your home DVD player with friends and family.
Download Here
Enjoy !