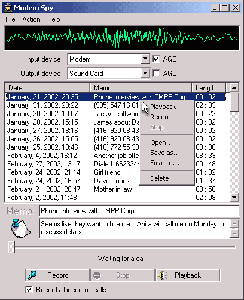 Modem Spy v3.5 (PC) | 1.5 Mb.
- Automatically record all telephone calls
- Record voice messages from microphone like Dictaphone
- Voice Activated Recording option available.
- Playback recorded conversations via telephone line or computer speakers
- Built-in automatic gain control software
- One click Email sending with WAV or MP3 file attached.
- Detect and log Caller ID information
- Friendly program interface allows to make quick note to remember phone call contents
- Convenient Caller ID popup window
- Access stored phone calls over Local Area Network (LAN)
- Optional caller ID pop up window on all computers connected to LAN
- Optional remote party notification before recording. It is required by law in some countries.
- There is Super Spy option for stealth recording.
- Optional answering machine mode.
- Recording from data modem is possible (you will need to physically connect your modem and sound card).
- Convert your records to any voice format! (MP3, WAV, etc)
- Program size is only 240 KB. Compare that to the footprint of other multi-megabyte software!