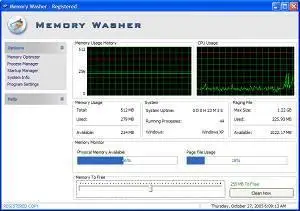 Memory Washer v4.5.20 | 3,11 MB
KEY FEATURES
* Memory Optimization - With Memory Washer you can increase the amount of your available memory by up to 95%. Memory Washer recovers memory leaks from unstable programs, protects your computer from Windows crashes and increases the efficiency of your CPU and motherboard caches; all with just a click of your mouse!
* Boost Performance - Memory Washer speeds up your computer by increasing the amount of available memory, recovering memory leaks, and managing Widows startup items and Windows running processes.
* Windows Startup Manager - Memory Washer allows you to delete or disable entries that automatically start on Windows startup. With Memory Washer's Startup Manager you can pull entries from your start menu startup programs folder as well as from the registry.
* Processes Management - Memory Washer allows you to detect and disable malicious processes running and slowing down your computer's speed. With Memory Washer's Processes Manager you can easily view which programs are using the most memory and manage those programs by terminating them or changing their current priority.
* Automatic Memory Management - With Memory Washer's Automatic Memory Management you can schedule Memory Washer to automatically increase your available memory immediately at specified intervals or upon reaching a preset amount of memory.