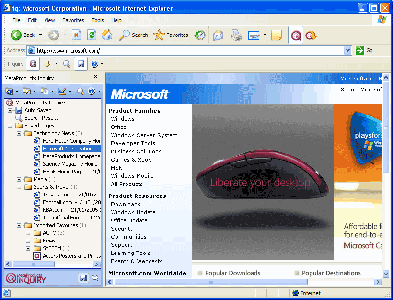 MetaProducts Inquiry makes Internet research a snap!
Collect, organize and view information from the Web on your terms, quickly and easily. Inquiry stores various Web files: entire
web pages, selected text and images, Shockwave Flash clips and many others
- it's fully integrated with Microsoft Internet Explorer and is also available as a standalone application.
Inquiry is also available from the right-click context menu in
Maxthon, FireFox, Mozilla, Netscape and Opera browsers
.
You access Inquiry simply by clicking a button on the MS Internet Explorer toolbar or Inquiry Sidebar. A single click saves the page you are currently browsing, or your selected text or images. You can choose to display or hide the Inquiry Sidebar by selecting the Internet Explorer Toolbars menu entry from the View menu and then selecting Inquiry Bar.
Besides that you can drag-and-drop a selection of a Web page to either save the selection or to store all pages linked to the selection.
Inquiry stores pages much faster than the regular Internet Explorer Save As feature.
Inquiry allows you to
quickly search in all collected pages
and displays the search results in a separate tree folder, allowing you to view them later or even save them in a separate folder for future use. It is also easy to organize your stored items as you wish, divide them by theme and purpose, sort in the order you need using drag & drop or using standard ordering methods.
That's not all about this wonderful program! Read "Original news"
Download
(3,8 Mb)
pass
www.maxthon.org.ru/
(warning - slash at the end!)
Copy inquiry.dll in another directory, patch and replace the original