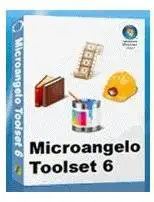 Microangelo Toolset v6.10 (Version Retail) (PC) | 5 Mb.
Toolset 6 provides a complete solution for developing icons and cursors. Its suite of icon editors and utilities includes everything you need to create icons, access, replace and more!
Make icons in all sizes and color depths including high-resolution Vista formats.
Create and edit static and animated cursors for all Windows platforms.
Import full-color, alpha-blended images from PSD or PNG files.
Change program icons using Toolset's Windows interface or the command line.