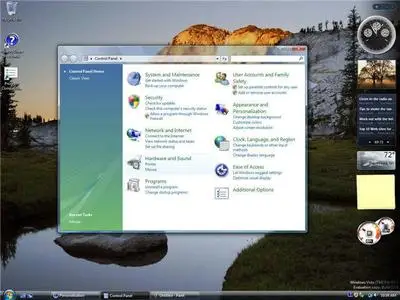 Windows Vista introduces a breakthrough user experience and is designed to help you feel confident in your ability to view, find, and organize information and to control your computing experience.
The visual sophistication of Windows Vista helps streamline your computing experience by refining common window elements so you can better focus on the content on the screen rather than on how to access it. The desktop experience is more informative, intuitive, and helpful. And new tools bring better clarity to the information on your computer, so you can see what your files contain without opening them, find applications and files instantly, navigate efficiently among open windows, and use wizards and dialog boxes more confidently.
Ease of use
When you start using Windows Vista, you will recognize familiar elements such as the Start menu, which is now faster, more streamlined, and more helpful than in previous versions of Windows. The Start menu features integrated desktop search through a new feature called Instant Search which can help you find and launch almost anything on your PC. Just type in a word, a name, or a phrase, and Instant Search can find the right file for you. But more than that, the new start menu makes it very easy for you to navigate across all of the installed applications on your PC. Eliminating the slow performing, cascading "All Programs" view, the new start menu can help you get something started more quickly than ever.
Microsoft.Windows.Vista.Business.Upgrade.READ.NFO-XiSO
AND
Microsoft.Windows.Vista.Local.Activation.Server-MelindaGates
º þ Release: Microsoft Windows Vista Business Upgrade º
º þ Filename: lrmbvccp_en.iso þ Format: ISO º
º þ Archives: 39x50MB þ Date: 01/2007 º
ÉÊÍÍÍÍÍÍÍÍÍÍÍÍÍÍÍÍÍÍÍÍÍÍÍÍÍÍÍÍÍÍÍÍÍÍÍÍÍÍÍÍÍÍÍÍÍÍÍÍÍÍÍÍÍÍÍÍÍÍÍÍÍÍÍÍÍÍÍÍÍÍÍÍÍËÍÍÊ»
º þ System requirements: ºÛ²°º
º 800MHZ/512MB RAM/20GB HD ºÛ²°º
ºÍÍÍÍÍÍÍÍÍÍÍÍÍÍÍÍÍÍÍÍÍÍÍÍÍÍÍÍÍÍÍÍÍÍÍÍÍÍÍÍÍÍÍÍÍÍÍÍÍÍÍÍÍÍÍÍÍÍÍÍÍÍÍÍÍÍÍÍÍÍÍÍÍ͹۲°º
º ºÛ²°º
º R E L E A S E N O T E S ºÛ²°º
º ºÛ²°º
º This is the upgrade version of Windows Vista Business. It installs ºÛ²°º
º without a key, just use either the KMS or timer reset activation bypass ºÛ²°º
º methods that are floating around. ºÛ²°º
º ºÛ²°º
ÌÍÍÍÍÍÍÍÍÍÍÍÍÍÍÍÍÍÍÍÍÍÍÍÍ I N S T A L L N O T E S ÍÍÍÍÍÍÍÍÍÍÍÍÍÍÍÍÍÍÍÍÍÍ͹۲°º
º ºÛ²°º
º 1. Burn/Mount and install. ºÛ²°º
unlike windows xp and volume activation 1.0 windows vista doesnt have any corporate
keys which will permanently activate it. volume activation 2.0 requires a corporate
user to either do a one time activation through microsoft servers (mak) or companies
can host a local activation server which does not talk to microsoft (kms). the only
difference is kms requires re-activation once every 180 days. however as long as
theres a local kms server its simple to keep windows activated. this release is a
vmware image of a permanently activated kms server which allows local activation of
windows vista business/enterprise edition. volume activation 2.0 is only built into
those two editions.

install vista business/enterprise edition with the key YFKBB-PQJJV-G996G-VWGXY-2V3X8.

using the latest vmware workstation, boot the image. disable vmware firewall.

on the non vm vista right click the command prompt icon and run as admin. type …

cscript c:\windows\system32\slmgr.vbs -skms vm_vista_ip

cscript c:\windows\system32\slmgr.vbs -ato

windows should now be activated.

to check activation status type …

cscript c:\windows\system32\slmgr.vbs -dlv

tested using echos windows vista enterprise and vmware workstation 5.5.3 but seems to
have issues with the billgates windows vista business.
Text File with Rapidshare.com Links inside:
http://www.ftp2share.com/file/18365/vista.txt.html