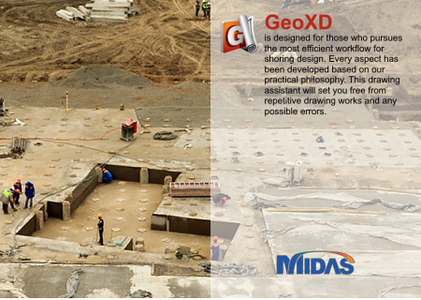 midas GeoXD 2020 version 1.1 | 553.8 mb
The MIDAS product team has presented midas GeoXD 2020 (v1.1) is designed for those who pursues the most efficient workflow for shoring design.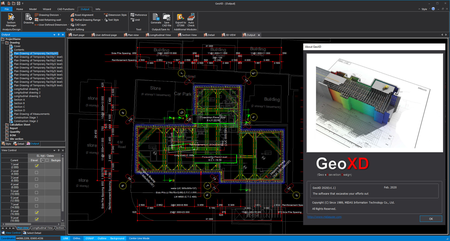 midas GeoXD
is designed for those who pursues the most efficient workflow for shoring design. Every aspect has been developed based on our practical philosophy. This drawing assistant will set you free from repetitive drawing works and any possible errors.
You can assign the style of retaining wall, strut, king post and other support systems to your lines directly with Drag & Drop function.
You can define the support systems to your retaining system easily with auto alignment function such as strutting for general and corner / adjusting level of strut and waler / amending the toe and head level of retaining wall / excavation area.
Online Tutorial: How to quickly master the geotechnical design report
Using Geo XD and GTS NX, we will conduct deep excavation works through this tutorial. The retaining wall will be assumed by the diaphragm wall and there are strut and waler for reinforcement.

The 3D geometry will be imported from GeoXD to GTS NX and carry out the 3D analysis with GTS NX. The forces from the temporary retaining system such as bending moment, shear force, and axial force will be checked by GTS NX. The drawings will be generated by GeoXD which are updated member size for reinforcements.
Founded in 1989, MIDAS Information Technology Co.,
takes No. 1 Market Share in Civil Engineering Software Solutions. Tens of thousands of Civil and Mechanical engineers around the world have implemented MIDAS Software in their work processes in undertaking high profile projects and everyday projects.
Product:
midas GeoXD
Version:
2020 (v1.1) with Tutorials
Supported Architectures:
x64
Website Home Page :
www.midasgeotech.com
Languages Supported:
english
System Requirements:
PC *
Size:
553.8 mb
Please visit my blog
Added by 3% of the overall size of the archive of information for the restoration

No mirrors please