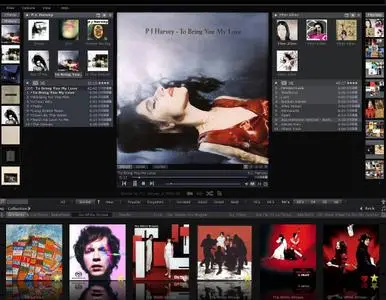 MP3Toys 2.5| Application | Size: 2,6 Mb
MP3Toys organizes your music collection into albums, automatically downloading the accompanying high-resolution album-art and lyrics. You can further enhance your collection by adding artist images and Web links. The album browser allows you to select and sort albums by various attributes like rating, genre, year of release, date added or folder location.
With a single click, play one album or all albums of an artist, create playlists with drag & drop or let the software shuffle the songs of all selected albums. A skinnable mini-player adds flexibility for controlling playback. Several color schemes are included and you can also create your own with the integrated user-interface editor. Files can be easily exported to a burn program or portable player by drag & drop or with the integrated file manager. There is also a fully featured tag-editor included.
Version 2.5.3.6 adds auto-update function for trial version and some bug fixes.
What's new in v2.5
enhanced GUI many improvements and tweaks like mirror style, album images for song lists, …
auto update feature never miss a new release anymore (full version only)
new 'popular' and 'forgotten' filters see the most and least often played albums with one click
external player support if you want to, MP3Toys will use the player of your choice for playback
sleep timer hibernate, shutdown or suspend your computer automtically after a timeout
support for FLAC files now you can play your FLAC files (CUE sheets are not supported yet)
saving of images in audio files save the album image in your audio files
customizable file scanner finetune the album management
and many minor improvements…
Download
Here
and
Here
Enjoy!!