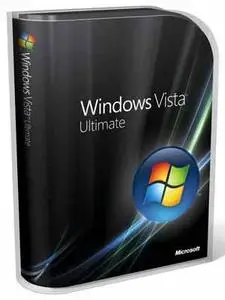 Microsoft Windows Vista Final RTM | 2.4 GB
BillGates Release | Ver.: 6.0.6000.16386 (vista_rtm.061101-2205)
According to Microsoft, Windows Vista has hundreds of new features, the most significant of which include an updated graphical user interface and visual style dubbed Windows Aero, improved searching features, new multimedia creation tools such as Windows DVD Maker, and completely redesigned networking, audio, print, and display sub-systems. Vista also aims to increase the level of communication between machines on a home network using peer-to-peer technology, making it easier to share files, password settings, and digital media between computers and devices. For developers, Vista introduces version 3.0 of the .NET Framework, which aims to make it significantly easier for developers to write high-quality applications than with the traditional Windows API. The Windows Communication Foundation feature which supports web services is aimed at improving networking and application integration for business and corporate users.
Don't ask me for a key. From what I've heard if you enter a key it will let you use vista for 3 days. If you don't enter a key you get 30 days. Within these 30 days some ppl should create a crack or keygen for it. So you have to be patient on this.
Download