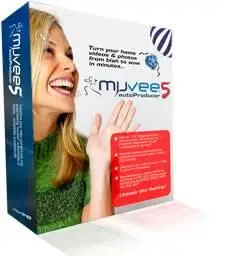 Muvee AutoProducer v5.0.9.9 | Windows 2000/XP | 105 MB
Home Page:
http://www.muvee.com/website/ap5_m.php
Our flagship product, muvee autoProducer, introduced the world to automatic video editing and spearheaded a revolution.
That's right, automatic. muvee autoProducer turns your home videos and pictures into stunning productions or "muvees" in seconds. No manual editing necessary.
But for the times you need more control - or when you want to inject some extra individuality into your muvee - autoProducer provides a surprising level of manual control. If you like tinkering, you may find yourself tweaking away for hours. But only if you want to.
muvee autoProducer POWER features include:
magicMoments: Gives you more control over your video production. Pick your favorite shots. Discard those you dislike.
magicSpot: Gives you more control on your photo transitions. Pick your sweet spot with magicSpot.
tweak muvee: Allows you to make last minute changes. Replace video segments with other video segments.
24 great looking production styles to pick from.
Batch burn: Burn multiple muvees onto a DVD or CD in one go.

Features:
http://www.muvee.com/website/ap5_features.php
System Requirements:Operating System:
Windows XP & Windows 2000
Recommended Hardware:
1GHz Pentium III, AMD Athlon, or equivalent processor with MMX support
256MB RAM
16MB Video RAM
Required Software:
Microsoft DirectX 9.0 or higher
Other requirements:
Screen resolution of 1024 x 768 or higher
Quick Tour:
http://www.muvee.com/website/ap5_quicktour2.php
Download (2*40 MB + 1*25.1 MB):
http://rapidshare.com/files/2917745/Muvee_AutoProducer_v5.0.9.9.ace
http://rapidshare.com/files/2918169/Muvee_AutoProducer_v5.0.9.9.c00
http://rapidshare.com/files/2922529/Muvee_AutoProducer_v5.0.9.9.c01
ACE
MD5: 60e6bd9e0351b4fc9dae3092540b7029
C00
MD5: 10f3635684e1da82927f9864d3383c58
C01
MD5: b61e47e62f046c80b172607750f0ec8d