My Drivers 3.11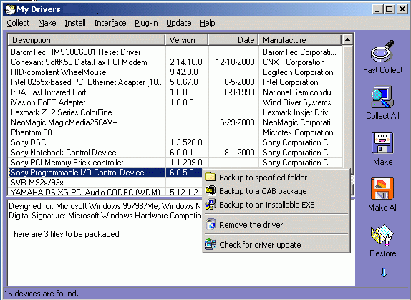 My Drivers enables easy and fast detection, backup and restore of all hardware device drivers currently on your system. Also, you can even find the latest drivers for your hardware and install them onto your computer. With just one or two mouse button clicks, you will have all your hardware devices extracted and backed-up to any folder you want. When you reinstall or upgrade your system, you can restore all drivers with a click of the button. You may also choose to backup a particular driver or all the drivers with an EXE automatic installer. If you have a particular item of hardware that is troublesome, just remove the driver with this software.

It is especially useful to those who have lost their Driver Disk or Driver CD. My Drivers is able to clone the original driver installation. It is also capable of serving those people to find and install the appropriate and latest drivers for their hardware devices. My Drivers identifies almost all hardware devices, reported information includes device model, device manufacturer, chip/chipset manufacturer etc.

Automatic Driver Update with 58,600+ latest drivers in database.
Automatic Driver Extraction and Recreation.
Stand-along EXE Installer Creation.
Network Backup and Restoration.
Advanced Driver Removal.
New Hardware Installation Wizard.
Restore Driver from any form of medium with a Wizard.
Hardware Detection independent of installed drivers.
Hardware Examination detailed down to Chip/Chipset.
Find Drivers on the Internet with high accuracy.
Contact Hardware Manufacturer and Vender with ease.
Detailed Hardware and Driver Information Printing.
PnP ID hardware fingerprint comparison.
Driver Compatibility Test before download and installation.
Download Drivers from the Internet with proxy support.
Floppy Disc Creation with My Drivers included.
Outlook, Outlook Express, IE Favorites backup and restore.
English, French, Spanish Interface and Manual Available.
Free Upgrades all the time.
My Drivers vous permet la détection, la sauvegarde et la restauration simple et rapide de tous les pilotes de périphériques présents sur votre ordinateur. Avec lui, vous pourrez toujours trouver les derniers pilotes mis à jour de vos périphériques et les installer sur votre ordinateur. D'un ou de deux clics de souris vous aurez extrait de votre machine tous vos pilotes et les aurez sauvegardés dans le dossier que vous désirez. Quand vous réinstallez ou mettez à jour votre système, vous pouvez restaurer vos pilotes d'un seul clic de souris. Après avoir relancé votre machine vous constaterez qu'ils sont tous installés et fonctionnent correctement. Vous pouvez également choisir de ne sauvegarder qu'un seul ou l'ensemble de vos pilotes dans un fichier EXE de réinstallation automatique. Si vous avez un périphérique qui ne fonctionne plus correctement, réinstallez le tout simplement avec ce logiciel.
My Drivers est très simple d'utilisation lorsque vous avez perdu la disquette ou le CD-ROM de vos pilotes de périphériques. Il est capable de cloner un package d'installation dans un fichier EXE.

http://rapidshare.de/files/18786912/my.drivers.3.11.By_BestOfTe_m.rar

Bon dl et bonne sauvegarde