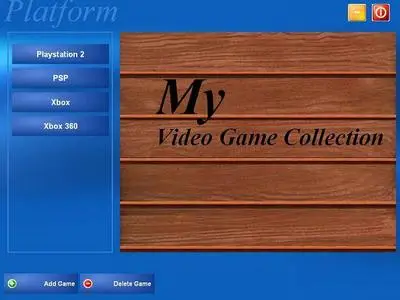 My Videogame Collection v1.00
Win App | 8.2mb | RS.COM
My Videogame Collection is simple to update and easy to use. Game information is downloaded via the internet for almost any videogame you can imagine.
With a database of over 4,000 Games updated on a regular basis; My Videogame Collection is the most complete, accurate, and compelling source of videogame information anywhere!
Locate Games Quickly…
The bookshelf view provides an easy way to efficiently locate any game in your collection with a couple clicks of the mouse.
Quickly and easily locate any game by Platform, Category or ESRB Rating. To search for a game within these areas simply press the first letter of the Game title!
View videogame information…
By clicking on a game within the bookshelf view you will be presented with a tremendous amount of information.
The game Name, Developer, Publisher, Category, Sub-Category, ESRB Rating, Description and up to 5 screen shots of the game is provided!
Manual Entry…
In the rare case that you can not locate your videogame in our database; simply add the information manually.
This user-friendly screen give you a way to keep track of your Games no matter what!
Print your entire Collection…
Registered Users can print their entire collection with the click of a button!
The Report is sorted by Platform and contains Game Name, ESRB Rating and a place for Comments!
System Requirements:
Windows XP/2000/2003
High Speed Internet access (DSL or Cable)
Pentium III 733 MHz
256 MB of RAM