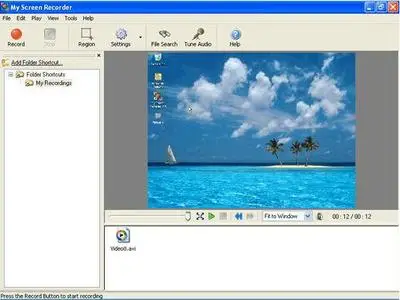 My Screen Recorder Pro ver. 2.58 | 4.14 Mb | Windows OS
My Screen Recorder captures your PC desktop activity into standard AVI video files. This screen capturing tool can record anything you see on the computer screen, including the entire desktop, windows, menus, cursors, and even video with sound. My Screen Recorder helps you make a video of the screen movements and save them for later playback.
Seeing is believing! Use My Screen Recorder to make people witness what you want convey through an audio-visual medium. Demonstrate a product, create a presentation with your own audio narration, make a voiceover tutorial, or walk through a Website review.
Record a part of the screen or the entire desktop with My Screen Recorder. You can make small size and high-quality screen recordings and save them as standard AVI files for later playback. My Screen Recorder organizes your recordings into Folder Shortcuts for easy management.
It is a powerful communication software that simplifies the way you share information through an audio-visual medium. Anyone interested in communicating by showing, telling, and sharing would find My Screen Recorder essential.
For additional features you can try our professional version, My Screen Recorder Pro, that allows you to create Flash and Windows Media screen recordings and distribute them on a CD or DVD as a self-playing executable file. See the comparison chart for a complete feature list.