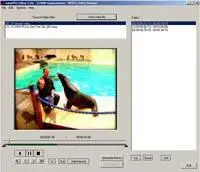 nanoPEG Editor 2.5.2 | Win32 | Size: 4,04 Mb
MPEG Editor is a simple, but powerful application for editing MPEG files. It is based on a "cut and paste" principle, that means you can set In- and Out-Marks and copy the selected clips to another file. nanoPEG Editor currently supports MPEG1 systems streams (including VCD) and MPEG-2 Program Streams (including SVCD).
For developing your own editing application, you may obtain our nanoPEG Editing SDK, which contains an API for lossless MPEG cut&paste routines.
* Lossless Cut&Paste of Mpeg1 and Mpeg2 Movies with Mpeg or Dolby AC-3 Audio Tracks
* High Speed Cut&Paste without Demultiplexing
* Set In and Out-Marks in a Preview Window
* Combine Several Source Files into one Destination File
* Split a Movie into several pieces (CD 650,CD 700, DVD)
* Save and Load Cut Lists
* Remultiplex of Mpeg2 Program Streams