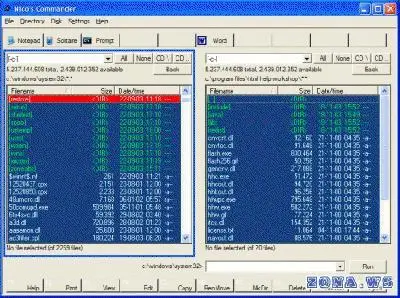 Nicos Commander 5.61
Win OS | 1.5 MB
Nico's Commander - it`s a Norton Commander like file manager, a clever Zip archive manager, a full blown FTP client and a fast graphics viewer, all in one package, that's Nico's Commander! Nico's Commander supports both English and Dutch. During installation you can choose what language to use. Nico's Commander supports Windows 95/98/ME/NT/2000/XP/Vista.
Features of "Nico's Commander":
· Ten or twenty application buttons you can configure to start your favorite application with one mouse click, and feed the application a file you selected.
· User configurable function keys.
· File search (with wildcards) and search for strings inside files.
· Zip and unzip with a few clicks of your mouse.
· Also support for RAR, CAB, TAR, GZIP and TZ archives.
· Directory compare.
· File compare.
· Explorer-like context menus.
· Supports FAT32 and NTFS.
· Show the current date and time in the title bar of the active window.
· Built-in editor without Notepads limitations.
· Built-in hex editor.
· Built-in viewer for text files and for a number of popular graphical file formats: JPEG, GIF, TIFF, BMP, PCX.
· Reach icons on your desktop with one mouse click, even if your desktop is cluttered with windows.
· Reach your Control Panel applets with one click of the mouse.
· Use FTP sites as local disks, with proxy/firewall support.
· Print ASCII files one page on a sheet (portrait) or two pages on a sheet (landscape).
· Optional command prompt with command history.
· Minimize by right clicking on empty space in Nico's Commander's main window.
· Esc key can instantly activate your Screen Saver.
· Shutdown your PC with one mouse click.
· And of course help and tooltips everywhere.

Changes in Version 5.61:
- Dialog window for local file operations now shows progress bar.