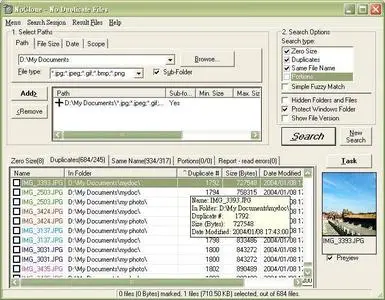 NoClone Enterprise ver. 4.0.15.0 | 1,6 MB
Windows 95 up
Find and Remove TRUE Duplicate files: You may not realize how many duplicate files you have after downloaded many files from the Internet or duplicate files scattered over your home or corporate network. Duplicate files are usually redundant and unnecessary, so keeping them is merely a waste of valuable hard disk space. Your hard drives may be full of documents, mp3, photos and video and many of them are redundant. NoClone finds and removes duplicate files regardless of file name. Time-saving Smart marker filters duplicates for removal or archival. ZDNet recommended her – Stop repeating yourself: Duplicate file finders. Customers include Boeing, California State Government, University of Memphis, WWF UK, and Disneyland Resort etc.
Home Page:
http://noclone.net/
Uncover true duplicate files; Recover valuable disk space.Features:
True Byte-by-byte comparison , not by CRC / MD5, totally safe to delete files.
Search duplicate file contents regardless of file name
Search duplicate pictures (jpg, gif), video (avi, mpg), songs(mp3), DLLs, Office documents(xls, doc, ppt, pub), pdf and any file types
Search files with same contents, same name, zero size and truncated files.
Simple fuzzy match to uncover similar files
Smart marker of duplicate files by date, version, size, folder and file name pattern
Preview files, show file versions and properties
Save search session / Export result list to CSV format
Search local hard drives (Home ed.) and over network (Enterprise ed.)
Benefits:
Clean up hard disks, identify and recover wasted disk space
Reduce backup time and media used for backups,
Reduce file searching time, minimize time used to unneeded virus scanning
Obtain more free space on "limited" resources, like notebooks
Remove duplicate files to eliminate synchronization problem
Organize files neat and manage files better
Cheaper than buying a new hard drive, so don't buy new hard drive, buy NoClone.
System requirements:
Windows 9x/Me/NT4/XP/2000/Server 2003.
Expected min. screen size: at least 800x600.
More Memory (says 128/256 MB) for larger scope of search.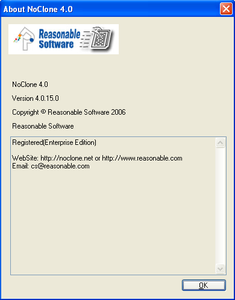 MD5: 42ae3f8ba1ddf1ddc8180f0bc35d71a0
Thanks to Team Lz0
Tested & Works