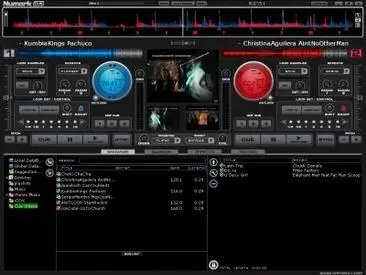 Numark Cue ver. 4.1 | 16.5 MB
Features:
*BPM Detection Engine works with any style of music from House, Hip Hop, and R&B to Rock, Salsa, and Techno
*Sync automatically so that your tracks stay on beat and in time
*Search your personal music library quickly and easily
*Save an infinite number of cue points per song
*Multiple skins. Choose your look to match your style of mixing
*Headphone preview and adjustable cue/mix volume
*Choose from a variety of video effects and transitions
Rhythm Window
See your music: with a visual waveform overlay of beats, you can have 100% mixing accuracy. Multiple zoom levels for beat matching precision and complete control.
Browse, Search, Sort
Navigate your music collection quickly and intuitively. Remember the title but not the artist? Search! Type in a keyword and you're taken immediately to your results. Sort by title, artist, BPM, and more. Add songs to the Playlist for quick access and Automix capabilities.
Power Audio
Ready for effects and more? Power audio takes you to the next level.
Internal Mixer
Need to travel light? For more on-screen EQ and Fader control, use the Internal Mixer interface.
Spice it Up
Choose from a variety of built-in effects or create your own plug-in. Activate as many effects at once as you like. With fully adjustable effect parameters, you have the power to add just a hint of Flanger or a blast of Backspin.
Scratch It
Scratch and Pitch Bend directly with your mouse. Just click and drag the Control Dome to take charge of the decks. Choose between BPM or pitch % views by clicking on the dome.
Sample and Loop It
Create beat-matched samples and loops on the fly. Choose from preset samples or load your own. Beatlock your samples so they trigger and play on beat every time. Loop quickly and easily from 1/8th note to 16 bars, and with SmartLoop, you're automatically on beat.