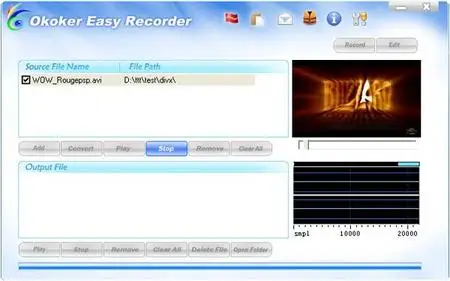 Okoker Easy Recorder 1.0 | 5,3 Mb
Okoker Easy Recorder allow you easy to record sound from microphones and line-in audio, streaming audio from the Internet, and audio from Winamp, Windows Media Player, QuickTime, RealPlayer, Power DVD, Flash, games and many others. After record, you can modify sound with special effects. Okoker Easy Recorder is a unique software that could record and convert all files can be played on your computer as various formats. It's very easy to use. The software provides a Windows Vsita style interface, it's very beautiful!
* Record any sound you hear on your computer.
* Record and Convert all media to mp3, wav, mp2, wma, ogg, g721, g723, g726, vox, raw, pcm formats.
* Provide most useful edit tool
* Can start and stop recording at any time you set.
* Very Easy to use.
* A very beautiful Windows Vsita style interface.
Download here
Enjoy !