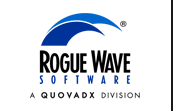 Older development products of Stingray Software
Reduce time-to-market with this comprehensive set of integrated GUI components. Stingray Studio is
designed to handle the low-level details of GUI application development, so you can focus on the business logic.
Get all of our Stingray components in one package! Stingray Studio includes:
Objective Toolkit - Variety of drop-in components that address areas not covered by the MFC and ActiveX
libraries.
Objective Grid - The only grid that provides components for MFC, ActiveX and Microsoft .NET in a single package.
Objective Edit - Components for implementing an advanced text editor, similar to the Microsoft Visual C++ editor.
Objective Chart - High-performance, advanced charting capabilities - including a variety of two-dimensional
chart types.
Objective Views - Components for incorporating custom graphical objects and enhanced drawing capabilities
into your application.
[
http://www.roguewave.com/
]
http://rapidshare.de/files/28414762/Stingray.Objective.Chart.v6.0.Final.Full.rar
9.03 MB
http://rapidshare.de/files/28415448/Stingray.Objective.Grid.v7.0.Final.Full.rar
15.31 MB
http://rapidshare.de/files/28416246/Stingray.Objective.Toolkit.Pro.v6.0.Final.Full.rar
28.13 MB
http://rapidshare.de/files/28417166/Stingray.Objective.Views.v6.0.Final.Full.rar
7.07 MB
mirror on oxyshare:
http://www.oxyshare.com/get/94886813044d6214c868450.29447303/Stingray.Objective.Chart.v6.0.Final.Full.rar.html
http://www.oxyshare.com/get/156016079544d62511c86658.41507426/Stingray.Objective.Grid.v7.0.Final.Full.rar.html
http://www.oxyshare.com/get/124593565344d63cb9263914.81246211/Stingray.Objective.Toolkit.Pro.v6.0.Final.Full.rar.html
http://www.oxyshare.com/get/82811564344d64527254793.87671624/Stingray.Objective.Views.v6.0.Final.Full.rar.html
see also my posts
http://www.avaxhome.ws/software/roguewave_stingray_studio_2004.html
http://www.avaxhome.ws/software/old_development_products_of_roguewave_stingray.html
http://www.avaxhome.ws/software/trolltech_qt_v3_x_x.html
http://www.avaxhome.ws/software/trolltech_qt_v4_1_x_sources_and_addons.html
http://www.avaxhome.ws/software/trolltech_qt_commercial_for_visual_studio_6.html
http://www.avaxhome.ws/software/trolltech_qt_commercial_for_visual_studio_2003.html
http://www.avaxhome.ws/software/trolltech_qt_commercial_for_visual_studio_2005.html
http://www.avaxhome.ws/software/bcgsoft_bcgcontrolbar_library.html
http://www.avaxhome.ws/software/codejock_xtreme_toolkit.html
http://www.avaxhome.ws/software/codejock_xtreme_toolkit_activex.html
http://www.avaxhome.ws/software/farpoint_button_calendar_input_spread_etc.html
http://www.avaxhome.ws/software/farpoint_button_calendar_input_spread_etc_last_versions.html
http://www.avaxhome.ws/software/farpoint_input_pro_for_windows_forms.html
http://www.avaxhome.ws/software/farpoint_spread_for_web_forms_ver1_0_x_0.html
http://www.avaxhome.ws/software/farpoint_spread_for_web_forms_ver2_5_x.html
http://www.avaxhome.ws/software/farpoint_spread_for_windows_forms_ver1_x.html
http://www.avaxhome.ws/software/farpoint_spread_for_windows_forms_ver2_x.html
http://www.avaxhome.ws/software/farpoint_spread_for_windows_forms_vs2003_v2_5_1005.html
http://www.avaxhome.ws/software/leadtools_development_products.html
http://www.avaxhome.ws/software/tx_text_control_classlib_dll_activex_versions.html
http://www.avaxhome.ws/software/tx_text_control_classlib_dll_activex_last_versions.html
http://www.avaxhome.ws/software/tx_text_control_net_versions.html