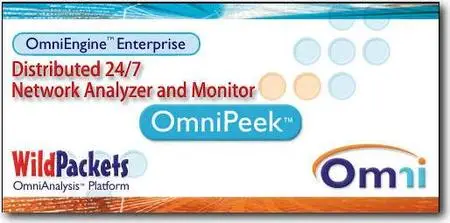 WildPackets OmniEngine Enterprise with Distributed 24/7 Network Analyzer ver.4.0
WildPackets OmniEngine Enterprise 4.0 extends the network analysis capabilities to remote locations, performing data capture and network analysis on multiple network interfaces, and over all network topologies, including wireless (802.11), Gigabit networks and WAN links. This product is best deployed in workgroups or at remote locations, providing continuous network monitoring and analysis without the need for local network engineering support. To completely cover your network analysis needs, one or more OmniEngines should be deployed at each remote location, with every server farm, and within the network operations core. OmniEngine Enterprise: Capture and analysis engine designed for enterprise networks, including networks running Wi-Fi, VoIP, and Gigabit segments.
Features and Benefits: Technology depth:
not just packet analysis, but multi-layer expert analysis:
- To accelerate troubleshooting, administrators need to know what has gone wrong, not just that something has gone wrong. WildPackets' Packet Stream analytics accelerates troubleshooting for finding and fixing problems fast. The WildPackets Expert system is industryleading technology based on evaluating packet streams, not statistical thresholds, providing precise, real-time analysis of problems facing today's networks.
Distributed expert analysis, not distributed packet capture: - Low cost solutions either stream packets back to a local software analyzer or send trace files back to the network engineer post-capture. Distributed expert analysis, however, means that you don't have to have a separate management network or bring down your WAN while troubleshooting a remote segment. Fault analysis solutions must be bandwidth-efficient, providing administrators with the real-time information they need without competing for resources with mission critical traffic.
Independent 24/7 analysis:
- For increased reliability, OmniEngine runs as a 24/7/365 service on standard Windows platforms. To accelerate analysis while minimizing bandwidth consumption, OmniEngine independently performs analysis locally and transmits only the data requested by the console. Independent analysis allows the engine to perform the analysis 24/7, even when no console is attached, and provides the maximum flexibility.
Scalability:
- OmniEngine is unique in allowing administrators to monitor multiple segments simultaneously-an important capability when administra-tors know there's a problem but don't know where it is. The OmniEngine also allows multiple consoles running independent sessions. The scalability of OmniEngine lowers cost of ownership, increases IT efficiency and provides fast ROI.
Application Analysis:
- OmniEngine introduces new, fully integrated Expert tools for application analysis. Unlike simplistic tools that merely report response times, OmniAnalysis presents detailed data views and graphical analysis that enable network engineers to understand the context in which application results are being reported. As a result, engineers gain an unprecedented understanding of how networks and applications are performing, and how application performance is affecting end users.
WildPackets is a founding member of the Apdex industry consortium, whose mission is to provide IT organizations with metrics that provide real insight into application performance and user satisfaction. OmniAnalysis reports industry-standard Apdex scores for applications active on the network, so IT engineers can measure application performance against business objectives.
Network Forensics Analysis:
- To be effective, a network forensics solution must address data capture, data discovery, and data analysis with products that are economical, scalable, and easy-to-use.
OmniAnalysis gives network engineers the powerful, affordable, and easy-to-use network forensics solution they need for rapidly analyzing forensics data, without requiring investments in special hardware and without bogging down network performance with large data transfers.
A truly distributed solution, OmniEngine can capture and analyze data at all critical network nodes in all topologies simultaneously. The OmniAnalysis solution performs data analysis on local OmniEngines and displays query results in OmniPeek.
VoIP Analysis:
- Building on WildPackets' award-winning network and VoIP analysis technologies, OmniEngines perform real-time network and VoIP analyses. Network engineers can rapidly troubleshoot faults – even faults occurring at remote locations – by using the OmniEngine to capture and analyze VoIP media, and then using the OmniPeek with the Enhanced Voice Option to view real-time results and perform advanced signaling analysis.
Gigabit and WAN Support: - OmniEngine Enterprise can capture and analyze traffic from Gigabit and WAN segments using WildPackets Gigabit and WAN analyzer cards to deliver higher performance for mission critical trouble-shooting on today's high-speed wide area networks.