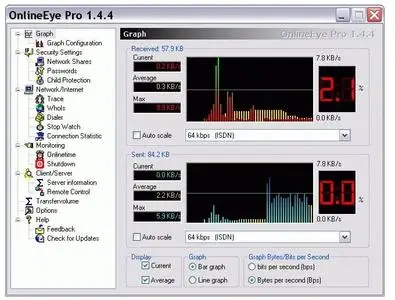 OnlineEye Pro v2.0.B1 (PC) | 3 Mb. | Ftp2Share (RS.com & DF Mirrors).
Have you ever wondered just how fast your network connection is?
Not just how fast the modem is connected at, but how much data you can
actually get? Does your internet connection sometimes seem slower than
normal? Forget hacking the registry or using counter-intuitive tools to get
the information you want - enter the world of Onlineeye!
Onlineeye is a small, easy to use TCP/IP protocol monitor which can be used
to see your exact throughput on both incoming and outgoing data - whether
you're using a modem, cable modem, DSL, or even local network!