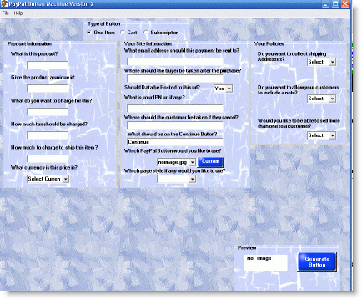 PayPal Button Machine v2.3
This program produces the same type of buttons that Paypal's website produces. The difference is, you don't have to be online to make your buttons. You can make every type of button whether they are single item, cart, or subscriptions. All fields are available to you.
All of this can be done offline with no need to go online. This means you can have your page ready to be uploaded when you connect instead of waiting to produce buttons the next time you can get on.
In addition, this program gives you more options. You can create custom page styles for every button you make. And you can set the text on the continue button. And you can set a ipn url for each button. And there's more.
http://rapidshare.de/files/18863753/PBM2.3.rar