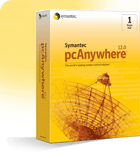 pcAnywhere 12 Corporate Re-Upped plus Patch
Originally Released May 2006
363 mb's of rar's, ISO 406 mb's
Re-upped at the request of some because prior Rapidshare.de files were deleted.
Symantec pcAnywhere 12.0 is the world''s leading remote control solution. It lets you manage computers and resolve helpdesk issues quickly, and connect to remote devices simply and securely. Now pcAnywhere adds support for Mac OS X. And new gateway functionality enables remote users to quickly find the hosts they need through firewalls and routers with minimal setup.
Key Features
•• Provides a feature-rich, secure, and reliable remote control solution to accelerate resolution of helpdesk calls.
•• Supports heterogeneous host and remote devices across Windows, Linux, and Mac OS X platforms.
•• Any host can be accessed from a Microsoft Pocket PC device or a web browser.
•• Host invitation simplifies the process of establishing a reverse connection from behind firewalls/NAT devices.
Key Benefits
•• Streamlines remote control management of heterogeneous platforms.
•• Accelerates the resolution of help desk issues.
•• Ensures secure remote management of non-centralized computers.
"With this release we've gotten back to the fundamentals," said Mike Baldwin, senior product manager for Symantec, based in Cupertino, California.
The pervasiveness of broadband, firewalls, routers, NAT (Network Address Translation) devices, and DHCP (Dynamic Host Configuration Protocol) IP (Internet Protocol) address assignment pose many challenges for help desk professionals looking to connect to remote PCs, laptops, and other devices, said Baldwin.
To address those challenges, Symantec has added a new gateway feature that lets users designate one machine in a network as a single point of access to that network. This helps reduce the amount of ports a user has to open and minimizes challenges around dynamic IP-address assignment, said Baldwin. Another new feature, called the host invitation, lets host users initiate remote-control sessions with remote users without requiring either user to know the other's IP address.
Symantec also said it had extended host and remote platform support for the Mac OS X operating system and host support for the Windows XPe and WEPOS embedded environments.
Add-On Offering
In addition to upgrading its pcAnywhere software, Symantec also rolled out an add-on offering, pcAnywhere Access Server, which enables connections to multiple pcAnywhere hosts through a central server, regardless of users' location or network configuration, according to Symantec.
Symantec's Web page for pcAnywhere:
http://www.symantec.com/smb/pr...p?pcid=cli_mgmt&pvid=pca12
Note: The folllowing does not contain the pcAnywhere Access Server.
The rar's were made from an ISO file generated from an original CD. Extracted ISO file is approximately 406 mbs.
No Password protection.
There are three sets of rar's for this download.
Set 1:
download the following text file that has the Rapidshare.com list of the 100 mb files
3 x 100 mbs, 1 x 64 mbs. = 4 rar files
http://www.ftp2share.com/file/12803/PCAcorp12_100mb.txt.html
OR
Set 2:
download the following text file that has the Rapidshare list of the 50 mb files
7 x 50 mbs, 1 x 14 mbs. = 8 rar files
http://www.ftp2share.com/file/12811/PCAcorp12_50mb.txt.html
Set 3:
The update file that takes pcAnywhere to 12.01 can be downloaded from Ftp2Share as follows, or reboot after installing pcAnywhere 12, and then do a Live Update.
2.8 mb's
http://www.ftp2share.com/file/12812/pca1201.rar.html