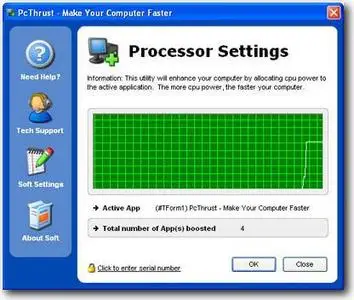 PCThrust increases computer performance by allocating higher portions of CPU power to active applications and games. Very easy to use, fully compliant with all versions of Microsoft ® Windows and compatible with most software. With PCThrust your computer will run faster than ever before. Boost the performance of your PC the easy way.
Features:
* Built-in block list of applications which are not compatible, to prevent problems with the software such as slow downs or computer crashes.
* Easy and intuitive user interface which performs CPU tuning in real-time.