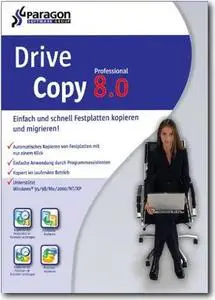 Paragon Drive Copy ver. 8.0.127 Professional | 39.4 Mb | Windows OS
Paragon Drive Copy is a cutting-edge solution to deploy new hard drive, migrate data and applications online, create bootable backup copy of a hard drive or its partitions. We recommend you Paragon Drive Backup, if you need a solution to backup on a regular basis along with drive copy functionality. Paragon Drive Copy is based on innovative Hot Copy® technology. Due to this technology all your applications remain online during data migration without significant performance delays. Easy to manage and understand interface in Windows XP style, unique One Button Copy Wizard, platform independent Drive Copy CD, automatic transferred partition resizing, wide hardware support (including USB, FireWire hard drives) make Drive Copy an ideal solution for the full spectrum of disk cloning operations. The success of today's business depends on the availability of your applications, networks, and data. Every minute of downtime can cost you lost revenue, lost opportunity, and even customer loyalty.
Paragon's Drive Copy Professional allows online data and applications migration, which is integral part of such IT operations as:
-Server or storage equipment maintenance or upgrade
-Server or storage technology replacement or upgrade
-Server or storage consolidation
-Relocation of the data center
Drive Copy Professional includes:
- Basic hard disk partitioning operations.
- Undelete Partition Wizard.
- Boot Corrector on Drive Copy CD.
- SID (Security IDentifier) modification.
- Windows NT/2000/2003 Server support.