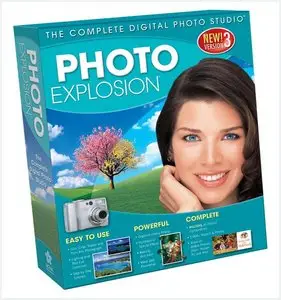 Photo Explosion® Special Edition 2.0 | 560 MB
Photo Explosion is an image editing software by Nova Development. The software provides solution for photo editing, capturing, organizing, sharing and photo enhancement. Photo Explosion is simple and easy to use. Make it simple to manage to image with the software.
The program runs under Windows platform including Windows Vista and Windows XP. Supported graphics file formats: JPG, GIF, BMP, WMF, PCX, TIF, EPS, PSD, TGA, CLP, IFF, PCD, PNG, PXR, RLE, SCT, TPL, TPX, UPX, WBMP.
Photo Explosion Highlight Features
Capture photos from digital cameras, scanners.
Batch Enhancements.
Adjust focus, lighting and color balance.
Apply artistic effects and particle effects such as Charcoal, Watercolor, Fabric, Oil Paint, Bubbles, Firefly, Snow, Clouds, Stars, Rain and more.
Capture, Organize, Edit, Enhance, Slide Show and Share image and photos.