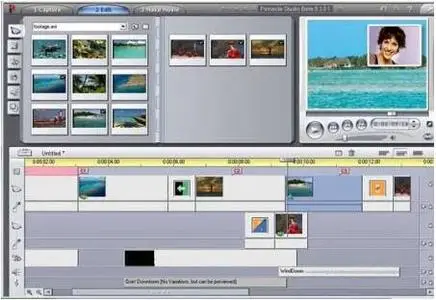 Pinnacle Studio MediaSuite v10.6 MULTiLANGUAGE | [ISO] | 580 Mb
Includes Studio Plus and a comprehensive suite of software tools for editing audio and photo, managing media files, burning and duplicating CDs and DVDs. Pinnacle Studio MediaSuite is the best choice for video editors and multimedia enthusiasts.

Video Editing with Pinnacle Studio Plus
Pinnacle Studio Plus is an advanced consumer video editing and disc authoring application whose intuitive interface and seamless workflow provide video enthusiasts with on-demand access to hundreds of professional-quality features while maintaining total ease of use from start to finish.
Photo Editing with Corel Photobook
Fast, fun and easy to use, Corel Photobook™ lets you retouch, organize and share your digital photos, or create photo albums and slide shows more easily than you ever imagined.
Complete Audio Editing with WaveLab Lite
Based on award-winning Steinberg WaveLab™ technology, WaveLab Lite offers a range of indispensable digital audio editing features, and comprehensive mastering possibilities for your Studio projects.
CD and DVD Duplication with InstantCopy
Making copies of your movies on DVDs and CDs has never been faster or easier. InstantCopy burns perfect copies every time-and at unbeatable speeds! With a user-friendly interface and unique compression technology, InstantCopy takes the effort out of creating high-quality copies of DVDs and CDs. It can also make true 1:1 copies of non-copy protected DVD movies, transfer DVD content to Video CDs, and make perfect copies of any CD media, including data, music, video and games.
Direct Video Burning with Instant DVD Recorder
Instant DVD Recorder is a software application that lets you transfer video directly from a tape to a DVD disc with basic menus.
Read more!
Download:
http://depositfiles.com/files/368646
http://depositfiles.com/files/368649
http://depositfiles.com/files/368650
http://depositfiles.com/files/368653
http://depositfiles.com/files/368654
http://depositfiles.com/files/368656