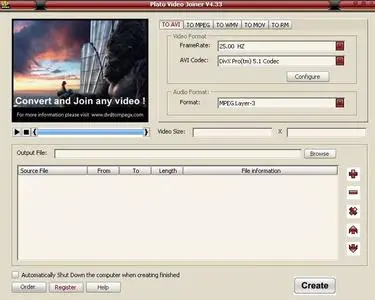 Plato Video Joiner v4.33 (PC) | 9 Mb.
Plato Video Joiner – help you join multiple AVI/DIVX , MPEG, WMV/ASF , RM/RMVB , MOV files into one large movie file with AVI / MPEG / WMV / RM / MOV format. You can add an unlimited number of video files to the list and rearrange their order if needed.
You could set the beginning and end position of every source video file in the video list , and rearrange the join order , then Just click "Start" , it will be OK !
Maybe it cost you a lone time to create a large file , so , with our automatically shutdown setting, you could excute the join task at midnight and just go to sleep , it could automatically shutdown your computer after conversion done !!.