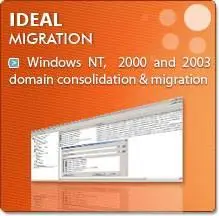 POINTDEV IDEAL Migration 2007 v4.0
6 mbs
December 2006
IDEAL Migration manages your Windows domain consolidation and provides reliable migration to Windows 2000 and 2003.
IDEAL Migration is the indispensable tool for the re-organization of your IT system.
Its whole features and its compatibility with Active Directory make it one of the strongest on the market.
Once your migration or consolidation plan is established, IDEAL Migration manages the transfer of required objects for the good execution of your mission.
It also presents other functions which allow you to be more selective on the objects to transfer:
- moving some shared folders from one server to another,
- moving user accounts with passwords from one domain to another,
- moving file and folder securities from one server to another,
- Scheduling transfers and command-line running.
Other strong point, exportation and importation of objects are made with CSV files. Those files can be easily installed in a database, modified or even created by yourself.
Characteristics
- Windows NT, 2000 and 2003 domain migration and consolidation
- Windows NT, 2000 and 2003 file server migration and consolidation
- Windows 9x, NT, XP and 2000 client station migration including profiles
- Roaming profile migration
- Handling of one or more source domains
- Handling of one or more destination domains
- Migration Assistant wizard
- User password migration from and to any Windows systems
- Saving objects in CSV-type files
- Off-line migration for stopped or disconnected servers
- Memorization of migration steps in Migration Project files
- Running of a Migration Project as a scheduled task
- Command line running of a Migration project
- Transfer of all NTFS file and directory permissions
- Three object import modes: Add, Modify or Add and modify
- SIDHistory management
- Complex password management
- Migration of users' TSE properties (Terminal Server)
- Migration by category
- Migration by object selection on one or more computers or domains
- Running of custom scripts when migrating client stations
- Works with MMC 1.1 console or higher version
- Consolidated and migrated objects:
- organization units
- computer accounts
- user groups
- user accounts
- members of user groups
- shares
- file and directory security settings
- printer ports
- printers
Home Page:
http://www.pointdev.com/en/ideal-migration/index.php
Download:
http://www.ftp2share.com/file/9038/idealmigration40.rar.html