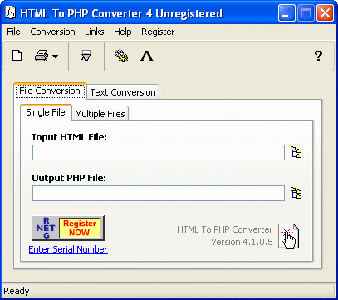 Portable HTML To PHP Converter 4 | 0.3 Mb
HTML To PHP Converter helps both beginner and professional web programmers alike with the tedious task of HTML to PHP conversion. If you have ever worked in the web development arena, you have found that you need to convert either a portion of HTML code to PHP code, or a whole HTML file to a PHP file.
This tool simplifies this process, and can convert from as small as one line to as many as thousands of lines of code in mere seconds. HTML To PHP Converter has numerous useful features, such as single file conversions, batch file conversions, copy and paste conversions, printing capabilities so you can look over your code on paper, and more.
The concept behind this HTML To PHP Converter is to a provide simple and no-nonsense HTML to PHP conversion tool simply works at down-to-earth price. HTML To PHP Converter can convert most HTML-based files: HTM, HTML, SHTML, and more to PHP with the click of a button.
Tested on Windows XP only!Password:
brRlGtSTGPym1Vai
Language:
English