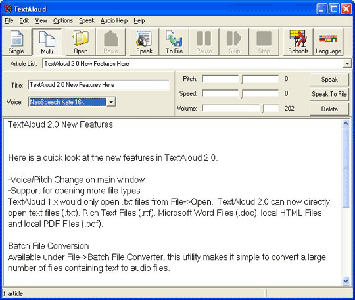 Portable Textaloud 2.194 | 2.2 Mb
The World's Most Popular Text to Speech Tool!
TextAloud reads text from email, web pages, reports and more, aloud on your PC. TextAloud can also save your daily reading to MP3 or Windows Media files ready for playback on your iPod, PocketPC, or even on your TV with Tivo's Home Media Option. Be more productive or just be entertained wherever you go with our text reader.
Note: you have to install other voices locally (by default, only Micro$oft Sam is available)
Tested on Windows XP only!Password:
9dqYb5TFtATPUThW
Language:
English
Homepage:
Homepage:
http://www.nextup.com/index.html