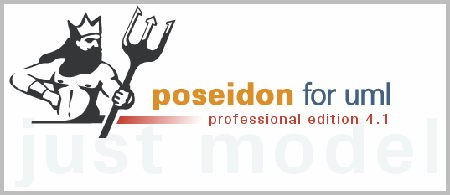 Poseidon for UML 4.1.2 Professional Edition (with crack) | 37 MB | Windows
Poseidon for UML is a powerful UML modeling tool for analysis, design and documentation in the software development process.

Its uniquely intuitive interface enables users to achieve higher productivity in a shorter timeframe. Many years of experience within Gentleware AG, an established authority in modeling, has lead to a tool that empowers the user to correctly use UML 2 to its fullest capacity.

Features such as code import, roundtrip engineering, code and documentation generation, and export to graphic and standard XMI formats bring value to professional users.
Download here:
rapidshare.com
Someone, pls mirror.
PS: Does anyone have Visual Paradigm, Enterprise Architect? Please share.