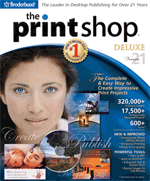 Broderbund Print Shop 21 Deluxe
Win32 | 4 CDs | 2.48GB
Everything you need from the world of print creativity is at your fingertips. With more images, professional project templates and powerful features like photo editing, project sharing and more, The Print Shop Deluxe 21 is our most comprehensive version yet!
• NEW! Choose from more than 320,000 images, including photos, web art, drawings and more!
• NEW! Create a unique project or customize one of 17,500 professionally designed project templates.
• NEW! Print without borders with compatible printers! Full-bleed printing allows you to use the entire page in your design – great for posters, signs and banners!
• NEW! It's a floor wax - It's a dessert topping!
• NEW! Enhance and alter photos like the pros with advanced photo-editing tools. Flip objects, blur backgrounds, adjust color schemes, clone parts of a photo, dodge an area to lighten it, improve grainy images and much more!
• NEW! Access more than 30,000 vintage images from past versions of The Print Shop. With this added art, you are sure to find the perfect image or a favorite past image to use.
• NEW! Tailor your project precisely to your needs with flexible design and layout tools, including improved character and line and spacing!
Install CD:
http://www.ftp2share.com/file/4244/PS21Dlx_Inst.part1.rar.html
http://www.ftp2share.com/file/4240/PS21Dlx_Inst.part2.rar.html
http://www.ftp2share.com/file/4265/PS21Dlx_Inst.part3.rar.html
http://www.ftp2share.com/file/4273/PS21Dlx_Inst.part4.rar.html
http://www.ftp2share.com/file/4306/PS21Dlx_Inst.part5.rar.html
http://www.ftp2share.com/file/4307/PS21Dlx_Inst.part6.rar.html
http://www.ftp2share.com/file/4329/PS21Dlx_Inst.part7.rar.html
Program CD:
http://www.ftp2share.com/file/4352/PS21Dlx_Prog.part1.rar.html
http://www.ftp2share.com/file/4383/PS21Dlx_Prog.part2.rar.html
http://www.ftp2share.com/file/4419/PS21Dlx_Prog.part3.rar.html
http://www.ftp2share.com/file/4478/PS21Dlx_Prog.part4.rar.html
http://www.ftp2share.com/file/4512/PS21Dlx_Prog.part5.rar.html
http://www.ftp2share.com/file/4550/PS21Dlx_Prog.part6.rar.html
http://www.ftp2share.com/file/4553/PS21Dlx_Prog.part7.rar.html
Art CD 1:
http://www.ftp2share.com/file/4977/PS21Dlx_Art1.part1.rar.html
http://www.ftp2share.com/file/4979/PS21Dlx_Art1.part2.rar.html
http://www.ftp2share.com/file/5017/PS21Dlx_Art1.part3.rar.html
http://www.ftp2share.com/file/5020/PS21Dlx_Art1.part4.rar.html
http://www.ftp2share.com/file/5050/PS21Dlx_Art1.part5.rar.html
http://www.ftp2share.com/file/5052/PS21Dlx_Art1.part6.rar.html
http://www.ftp2share.com/file/5062/PS21Dlx_Art1.part7.rar.html
Art CD 2:
http://www.ftp2share.com/file/5070/PS21Dlx_Art2.part1.rar.html
http://www.ftp2share.com/file/5076/PS21Dlx_Art2.part2.rar.html
http://www.ftp2share.com/file/5079/PS21Dlx_Art2.part3.rar.html
http://www.ftp2share.com/file/5099/PS21Dlx_Art2.part4.rar.html
http://www.ftp2share.com/file/5105/PS21Dlx_Art2.part5.rar.html
http://www.ftp2share.com/file/5122/PS21Dlx_Art2.part6.rar.html
http://www.ftp2share.com/file/5116/PS21Dlx_Art2.part7.rar.html