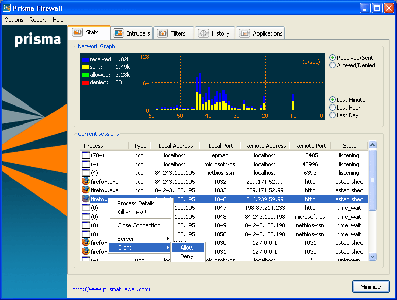 Prisma Firewall 1.4 | Application| 2,9 Mb
Designed for home and small office settings, Prisma Firewall software provides a reliable solution to intrusion prevention, a personal firewall for individual PCs. Using multi-layered protection, Prisma filters the traffic at network packet level as well as controls the applications network access.
Prisma Firewall is a necessity for all desktop computers connected to Internet. Prisma Firewall protects your computer and personal information from intruders, data thieves, and other internet threats.
Within a private network, Prisma Firewall protects the computer from attacks of internal users.
What's new:
- User is alerted when the Application Protection is OFF;
- User is alerted when the Packet Filtering is OFF;
- Installer - the user can now choose not to create Start-Menu shortcuts;
Download from
Rapidshare
Download
crack
Enjoy!!