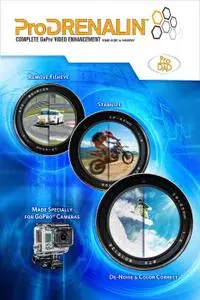 proDAD ProDRENALIN 2.0.28.1 Multilingual (x64) + Portable | 47.3 Mb
Make Your Action-Videos Even Better – Remove Fisheye, Stabilize, De-Noise…and More! With ProDRENALIN, your raw action/sports videos can be quickly and easily refined into more stunning, professional looking productions using simple yet effective tools. If you shoot on a action cam, you need ProDRENALIN!
Action cameras are fantastic for capturing life's most amazing adventures though sometimes with some adjustments they can be even better. ProDRENALIN is a ridiculously simple & affordable tool for automatically removing fisheye & perspective distortion, stabilizing, correcting rolling-shutter, and even de-noising the video.
Why Choose ProDRENALIN?
- Automatically remove fisheye distortion from video or still pics – Sometimes the fisheye effect is desired however sometimes you want a flat, normal looking image and correct perspective distortion too.
- Rock-steady stabilization – proDAD's video stabilizer, the gold standard in post-capture video stabilization is part of ProDRENALIN and it's fully automatic!
- Rolling-shutter correction – Improves the skew & jello that sometimes happens during fast action panning.
- Simple color correction, brightness & contrast adjustment tools make your videos more polished;
- Rotate the video in case the camera was accidentally mounted upside-down;
- Batch processing for convenient loading of multiple clips to be optimized
- Among the first applications to support 4K and 2.7K video resolutions.
- Side-by-side comparison shows the original and optimized video prior to rendering and exporting.
- Fully compatible with all action cameras in all supported resolutions, with the ability to import other action camera profiles from proDAD's Defishr application
Home Page
-
http://www.prodad.com