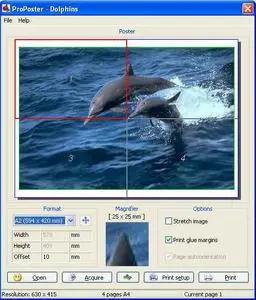 ProPoster 1.01.20
ProPoster is software for printing poster or banner from any picture, Microsoft Word, Excel, CAD drawing, web page, or from a digital photo camera, a scanner. It is possible to print standard (A0, A1, A2) format posters or big custom posters with the size up to 10 * 10 m using any printer.
The program automatically divides images into the necessary number of pages. To create a poster, you will also need glue, scissors and a bit of skill.
This poster printing software is very simple and intuitive.
Features:
• supports the standard graphic files:
- bmp – Windows Bitmap
- gif – Compuserve GIF
- jpg – JPEG independent group development
- wmf – Windows metafile
- emf – Enchached metafile
• supports the coping from standard windows application (the text, the table, the diagram from Word or Excel);
• allows to acquire the images from the TWAIN-sources (the scanner or the camera) without addition programs;
• allows to print out a necessary part without printing the whole poster.
Notes:
• For printing html-pages they need at first to be opened in Word and then to Copied-Pasted in ProPoster.
• For printing drawings from ACAD, T-Flex and other vector editors to get the high quality poster, the drawings need at first to be exported in wmf-format and then to be opened as wmf-files.
• Various printers differ by paper margins and correspondingly by active print areas. Therefore different quantity of pages should be necessary to print the poster of the identical size.
Download:
http://rapidshare.de/files/17196278/PPR-02895890.rar
Password to unRAR:
www.AvaxHome.ru
:)
AIO - All Slysoft - April Update - 2006
http://www.avaxhome.ws/soft/aio_slysoft_april_2006.html
:)