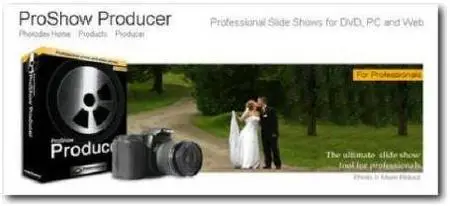 ProShow Producer ver.3.0 Build1891 | 25.9 Mb | Windows OS
The all-new ProShow Producer 3.0 allows you to create advanced, professional-grade presentation masterpieces that not only emotionalize and inspire audiences but bring them to the point of sale. With an award-winning feature set including unlimited photo/ video layering, show templates, branding, copy protection and built-in media authoring, plus all-new creative features like masking, vignetting and motion keyframing, the only limit to your success is your imagination.
ProShow Producer shares the same look and feel as ProShow Gold, with enhancements scattered throughout the feature set. From a workflow perspective, we really liked the ability to zoom the Slide Options window to full screen and to shell out to an external image editor to correct color imbalances and red-eye. You can also insert a watermark over any or all of your images, with precise controls over placement, size, and opacity. Other enhancements in the Slide Options window include the ability to include up to 100 layers of images in a slide, with individual control over motion, opacity, and masking. This is a breakthrough feature for still image slide show tools, but ease of use trails that of most traditional video editors. For example, to fade out an image in a six-image montage in a video editor, you'd simply drag a fade effect on that image. With Producer, you have to set up two identical slides, one with all six images, the next lacking the image to disappear, and then insert a dissolve transition between the two slides. Not impossible, but cumbersome.
Detail Formats:
-DVD (with PC playback)
-VCD (with PC playback)
-Autorun CD
-Self-contained EXE
-Share shows via email
-Streaming web shows
-Free online show sharing
-New! Streaming Flash video
-New! Compressed AVI
-New! Uncompressed AVI
-New! Quicktime video
-New! High definition video (HD)
-New! Windows Media Video (WMV)
-MPEG 1 and 2
-Screensavers