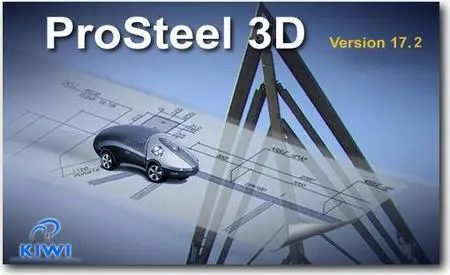 ProSteel 3D is a CAD Software for structural steel construction. Thus you realize easily your construction and planning tasks. Based on the CAD-System AutoCAD you get an easy to use and perfect integrated worldwide compatible solution for your daily work. From first planning and design to the assembly ProSteel3D remains thereby your reliable partner. With many years of experience in the field of AutoCAD development and our close contact with users has contributed to ProSteel 3D becoming an internationally recognised and important application for 3D structural steel and metal work.Profit from the 3D tools, the structural objects,the partslist and the 2D workshop drawings - or like it a ProSteel 3D user expressed: "the work with ProSteel 3D is easy and is fun"
Design:
ProSteel 3D has more than 290 national and international shapetables with more than 20000 shapes. End plate, Base plate, Web angle, Shear plate, Splice joint, Haunch, Stiffener, Purlin connection etc. – any connection is easy to create and to adapt in an compfortable dialog.
Production:
Create in a short time Worksheet drawings, Views, Errection Drawings, Partlists or NC-Datas. With Interfaces to ERP-Systems you can optimize the machine control and your workshop preparation.
Programing:
Individual, arbitrarily complex connections - or whole constructions - can be realized by the COM interface; fast and simply by each user. Specific customer's requests can be offered economically and fast.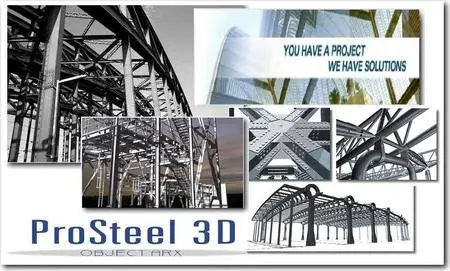 ProSteel 3D is an application for structural steel detailing and fabrication. Because ProSteel 3D is very tightly integrated with AutoCAD® and is object oriented through the use of AutoCAD's Object ARX interface, a level of efficiency can be realised which has not been possible before. This new technology virtually guarantees an extremely high level of productivity. It also allows you to work with very small drawing sizes, and editing and manipulation of members can be done by the use of standard AutoCAD® commands. In this way even large and complicated projects, which might previously have required the use of high end UNIX work stations, can now be handled in a systematic and user friendly environment.
Typical applications for ProSteel 3D are:
-Structural Steel/Steel Building Construction,
-Plant Construction,
-Shelving Construction/Aluminium Construction,
-Conveying Equipment/Heavy Machine-Building Industry,
-Marine - Naval Architects, Boat Builders